Moving around Madrid is way easier than you think! And maybe even cheaper than you think!
In fact, Madrid counts on a very efficient transport system which has definitely improved its infrastructures during the last 20 years.
Moreover, all the transport system in Madrid is connected to the Consorcio Regional de Transportes de Madrid, a sort of transport union that allows you to have a single card to recharge in specific automatic machines (you can find them in every metro station) and travel by any transport system you prefer (metro, buses, etc…).
A simple ticket (one-travel ticket) costs €1,50, while a ten-travel ticket costs €12,20.  But don't forget: the cheapest way to move around Madrid is to use the Abono Transporte: it's a collective pass created by the Consorcio Regional de Transportes de Madrid which is personal and rechargeable. The monthly fee for young people is just €20 and allows you to travel all around Madrid and beyond. If you want to know more about this, check this out!
Don't worry, we can take care of all the paper stuff you need to get your Abono Transporte Joven: just fill our form on the GuruIt App in the "Transport" area and we'll tell you when it's ready to be collected!
So let's get to know it: here are some ways to move around our beautiful city!
Metro
The metropolitan service in Madrid is one of the widest in Europe: it is a quick, practical, and safe system to move around. There are 12 lines of metro in Madrid that could take you literally anywhere! The metro is active from 6.05 AM to 1.30 AM and it is pretty easy to be oriented in Madrid metro stations because you will find signs everywhere!
If you want to know more about Metro de Madrid, check out their official website!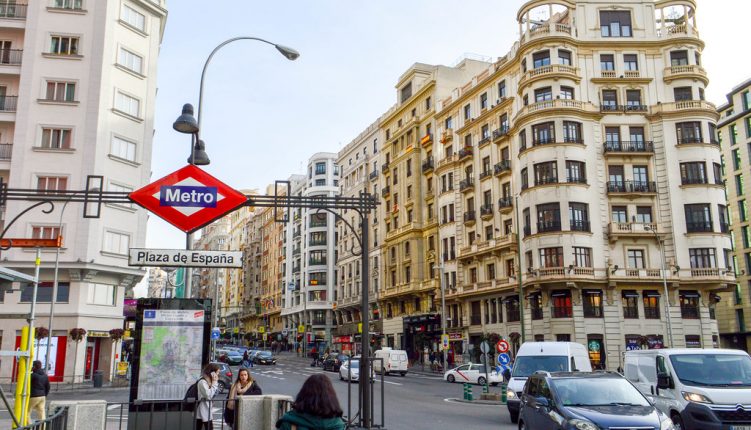 Buses
The bus transport system in Madrid is run by the Empresa Municipal de Transportes de Madrid (EMT): this is a regular service which is active from 6.00 AM to 11.30 PM, but a nocturnal line is also active from 11.45 PM to 5.30 AM.
If you want to know more about bus lines and timetables, check out the EMT official website!
Uber
Using a car in Madrid could be pretty stressful, so we don't recommend it. But what if you need to be picked up from a place that is not served by public transport or you have too much baggage with you? Don't worry! Uber is the ultimate solution for you! This modern version of taxi service is already quite famous in Europe, so you will just need to download the app on your mobile phone and book a Uber Car by putting your departure and arrival point: the app will already tell you how much you are going to pay and how long you have to wait before a Uber driver shows up.
Bike Rental
Madrid has recently introduced an electric bike rental service called BiciMAD that allows you to rent a bike as an occasional user for one or two hours if you need it. You can find more than 2000 bikes located in over 160 stations in all Madrid neighborhoods. The cost could vary from €2 to €4 euros for a two-hour rental. Check this out to know more!
BUT DON'T FORGET! Madrid is a lovely city to live in as a free walker! And we have some ideas for you: why don't you go for a walk in one of the three main lungs of Madrid? If you don't know them… check this out!
By: Alessia Cuofano, University of Naples L'Orientale '22